A continuación me gustaría compartir 4 registros en vivo de estos maestros ingleses del rock psicodélico espacial. De este modo, seguimos reconstruyendo su discografía en este espacio (¿Será posible terminarla algún día?). Amigos: Los dejo con más de Hawkwind.

1973 - Space Ritual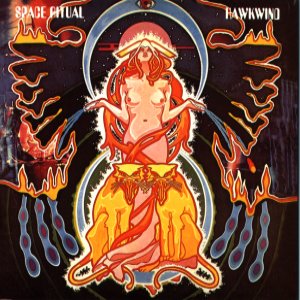 Si hay un registro en vivo indispensable para los seguidores de Hawkwind este es, claramente, "Space Ritual". Esta grabación proviene de la gira realizada por la banda en UK y US en 1973. En esta época, los ingleses se encontraban en su apogeo psicodélico, y sus conciertos eran todo un festival de efectos visuales, luces, danza, sintetizadores espaciales, letras fantásticas y la poesía de Robert Calvert Este trabajo nos sumerge en una travesía delirante, hipnótica, totalmente fuera de este planeta, marcada por el saxo y flautas y etéreas, la exquisita monotonía rítmica coloreada gracias al sintetizador, efectos chispeantes y alucinógenos, atmósferas densas y paralizantes...todo producto de la mejor formación de Hawkwind, en uno de sus mejores momentos creativos. Dando cátedra de qué significa realmente hacer rock psicodélico, la banda deja claro que su potencial sobre el escenario iguala, e incluso supera, su obra de estudio. Muy recomendado.

Track Listings
CD 1:
1. Earth Calling (Live) (1:46)
2. Born To Go (Live) (9:56)
3. Down Through The Night (Live) (6:16)
4. The Awakening (Live) (1:32)
5. Lord Of The Light (Live) (7:21)
6. Black Corridor (Live) (1:51)
7. Space Is Deep (Live) (8:13)
8. Electronic No 1 (Live) (2:26)
CD 2:
9. Orgone Accumulator (Live) (9:59)
10. Upside Down (Live) (2:43)
11. 10 Seconds Of Forever (Live) (2:05)
12. Brainstorm (Live) (9:20)
13. 7 By 7 (Live) (6:13)
14. Sonic Attack (Live) (2:54)
15. Time We Left This World Today (Live) (5:47)
16. Master Of The Universe (Live) (7:37)
17. Welcome To The Future (Live) (2:03)
18. You Shouldn't Do That (Live) (6:55)
19. Master Of The Universe (7:26)
20. Born To Go (Live) (5:04)
DESCARGAR
1983 - Zones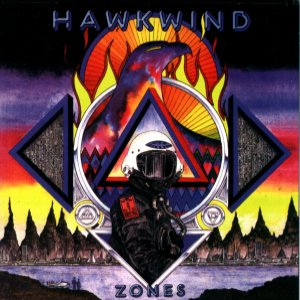 Esta grabación se ubica temporalmente 10 años después de su monumental "Space Ritual". Por supuesto, la formación de la banda ha sufrido algunos cambios, siendo la más importante la ausencia del bajista Lemmy Killmister, quién más tarde fundaría "Motorhead". "Zones" consta de tres temas de estudio, y el resto constituye registros en vivo extraídos de presentaciones en Londres y Bristol. Tomando en cuenta lo anterior, y observando el tracklist que se incluye en este trabajo, es posible afirmar que aunque no es un mal disco, tampoco es indispensable. Si eres fan de la banda, adelante. Si no lo eres, juzga por tí mismo, pero no esperes una obra maestra.

Track Listings
1. Zones (0:46)
2. Dangerous Vision (5:05)
3. Running Through the Back Brain (6:17)
4. The Island (3:17)
5. Motorway City (4:57)
6. Utopia 84 (2:06)
7. Social Alliance (4:39)
8. Sonic Attack (5:47)
9. Dream Worker (5:28 )
10. Brainstorm (8:30)
Total Time: 46:52
DESCARGAR
1984 - This is Hawkwind, Do not Panic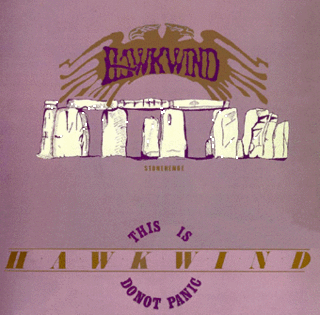 Stonehenge - This is Hawkwind Do Not Panic es un álbum en vivo que fue grabado en dos lugares diferentes. Los primeros 7 temas provienen de una presentación en el Lewisham Odeon theater en Londres de 1980, y las otras en Stonehenge en 1984. Este trabajo es una combinación de garage rock, space y progresivo que, sin deslumbrar, es perfectamente disfrutable. Recomendado principalmente a los fans que ya están familiarizados con el trabajo de Hawkwind.
Track Listings
1. Psy power
2. Levitation
3. Circles
4. Space chase
5. Death trap
6. Angels of death
7. Shot down in the night
8. Stonehenge decoded
9. Watching the grass grow
DESCARGAR
1985 - Bring me The Head of Yuri Gagarin
El sonido de este registro deja bastante que desear, pero será apreciado por los fans debido a Robert Calvert y su poesía espacial en los dos primeros temas, la participación de Lemmy Killmister y buenas versiones de temas emblemáticos tales como "Orgone Accumulator", "Silver Machine" y "Master of the Universe". De todos modos, una vez más, te invito a juzgarlo por tí mismo.


Track Listings
1. Gaga
2. The egg
3. Orgone accumulator
4. Wage war
5. Urban guerilla
6. Master of the universe
7. Welcome to the future
8. Sonic attack
9. Silver machine
DESCARGAR
Los invito a evaluar el trabajo de Hawkwind y a comentar.
Saludos!
5 comentarios
Make A Comment